Hollywood writers strike halts production of TV, movies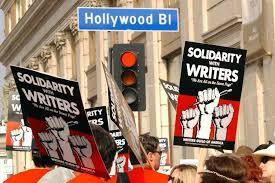 An ongoing Hollywood writers strike could have devastating effects on the world of television production. The Writers Guild of America (WGA), a union of US television writers, is on strike for better conditions. This could lead to a shortage of new media for consumers as the strike will cause serious delays. The WGA is asking for better pay, higher residuals, and more staff per writing room. Additionally, they want movie and television production companies to agree to safeguards concerning the usage of artificial intelligence in the writing room to try and bring more job security in the wake of the recent advancements in AI technology.
The WGA and Hollywood studios attempted to negotiate in March, which failed, leading to the current strike. This is the union's first strike since 2007-2008, when WGA members flocked to the picket lines in a strike that lasted from Nov. 5th to Feb. 12th. The 11,500 members of the union will not be working until production studios agree to the union's demands.
What does the strike mean for television? Popular shows like SNL, The Daily Show, and other weekly shows focused on current events, will not be able to air weekly episodes. With no writers to create shows, they will be the first to be affected by the strike. Depending on how long the strike lasts, it also has the possibility to delay the production of other, more long term shows. Production of the 5th season of Stranger Things has already been paused due to the strike, and it is safe to assume that more shows will follow the same path.
When could the strike end? It depends on how quickly the WGA and the Alliance of Motion Picture and Television Producers, an association representing media producers, can come to an agreement. This could take anywhere from a few weeks to a few months to resolve; If you look back at the 2007-2008 strike it took 99 days to resolve. It is likely that we can expect a similar time frame for this strike. Until the two parties can come to an agreement, consumers can expect delays in production and more news to come from this historic strike.