Student artists make a splash at the 2023 IB art exhibit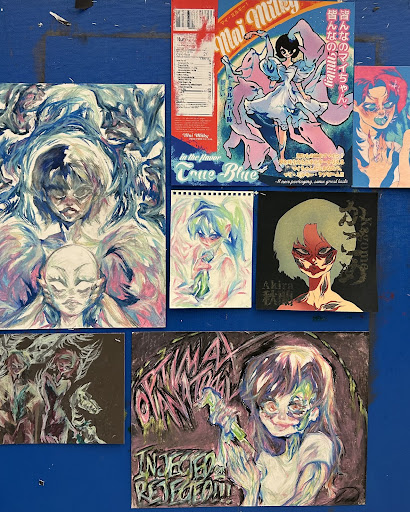 For creatives at South Lakes and art lovers in Reston, the senior IB art exhibit is the artistic highlight of the year. The yearly ritual of displaying artwork in the school lecture hall has become one of the proudest showcases of teen talent in the community, becoming a sacred space for IB art students to shine in front of the entire student body. At this year's exhibit, these high school seniors have once again outperformed expectations with their technique, critical thinking, and dedication to creation.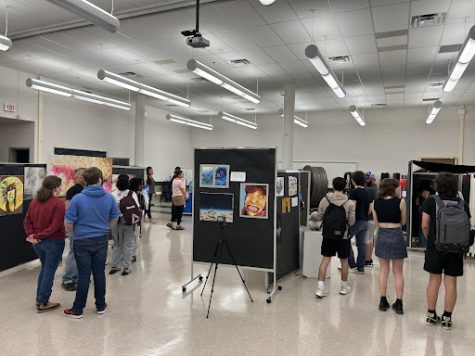 The overseer of the annual exhibit is IB art teacher Matthew Ravenstahl, who's worked for South Lakes for 27 years. Even though he's the main coordinator, Ravenstahl notes that this project is a "team effort" and that the entire art department plays a critical role in mentoring the students and setting up their artwork.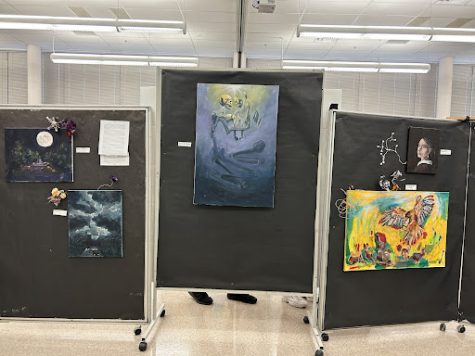 The seniors in the IB art program have carefully crafted their portfolio over the course of two years, and the fruits of their efforts have blown away the community. On the night of the open exhibit, the lecture hall was brimming with drawings, paintings, digital illustrations, and ceramic pieces. At the entrance, the visitors were immediately greeted by Zoe Denkenberger's exhibit with her painting Eternal Embrace taking center stage. Another stand out piece was Julianna Byrd's psychological horror film Be Mine which played in an enclosed corner. Notably, this year's exhibit had a live performance piece by Lyla Dodge. With the entire room dead silent, Dodge sat at a table with a birthday cake sporting a suit and clown makeup. They continued to ominously smile before motioning at the crowd to sing happy birthday. Once the chant finished, Lyla ravenously ate the cake, revealing a hidden set of fake organs inside. The array of standout pieces were equally shocking, inquisitive, and beautiful.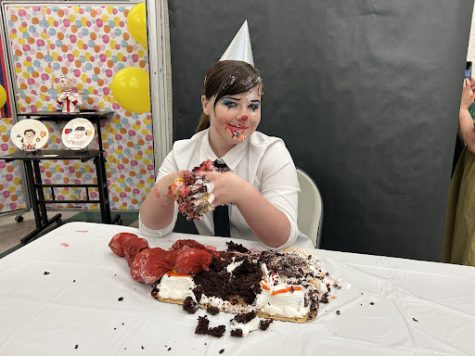 Along with their collection of artworks, each senior included a written artist statement, giving the viewer background on their inspiration and intentions. Discussing topics from art history to death and identity, their multifaceted explanations felt on par with those of professional artists.
Even though every IB art exhibit is unique in its own way, Ravenstahl says that this year's showcase was especially powerful. "The thing that I'm most proud of with this exhibit is that every individual exhibition is solid," he explained. "You know that there's obvious sincerity, effort, thought put into every single exhibit."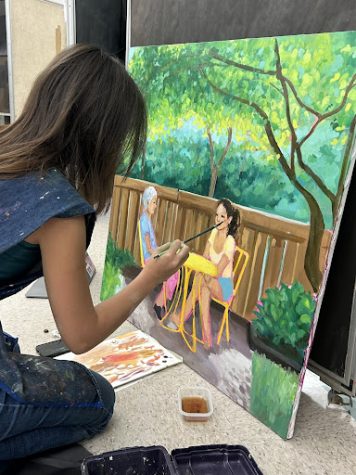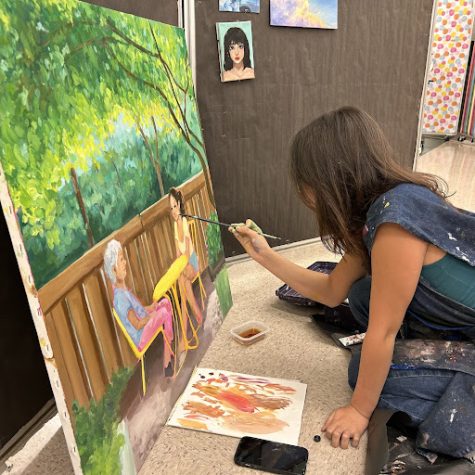 South Lakes High School prides itself in the visual and performing arts, and this exhibition is just another testament to the creative spirit of the seahawks. As an International Baccalaureate school, the IB art program offers unique opportunities like this showcase that allows students to think critically and explore themselves through the creative realm. "The thing that our department prides itself on is that the students really feel as though the class is about them and trust us enough that they make work that really matters to them," Ravenstahl reflected while gazing at the art-filled room. "…The students lead the way. I just try to facilitate as much as I can. I don't feed them anything, it's them seeking it out…that's to me what education should be about."