South Lakes: The brightest star in high school theatre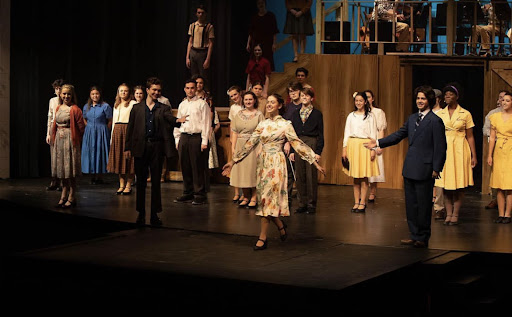 South Lakes' highly anticipated spring musical, "Bright Star", opened on May 3rd with a powerful preview show, and went out with a bang after a tremendously successful run on May 6th. Due to the overwhelming success of last year's musical and this year's fall play, "Bright Star", which was supposed to open on May 4th, was granted a fifth show. Additionally, 75 critics from the high school award program "Cappies"—the program from which South Lakes won seven awards last year—attended the Saturday matinee, a massive leap from the 20 critics present at "Crazy for You".
"Bright Star" follows a young Alice Murphy (Abigail Jamison) and her turbulent life in Zebulon, North Carolina. The story is split between the 1920s and the 1940s—almost every scene bouncing between the two—as we watch Alice grow up and fall in love with the Mayor's son Jimmy Ray Dobbs (Henry Carter). The two have a child together who is soon torn from them by the Mayor (Josh Lewis) causing Alice to move to Asheville and start fresh as an editor. While Alice is seen in both the 1920s and the 1940s, most of her story takes place in the 1920s while the supporting character, Billy Cane (August Rivers), takes us through the 1940s. We watch these two stories develop similarly in their own respects, touching on themes of romance, loss, and personal aspiration, before finally entwining in the show's second act when we learn that Billy is Alice's long-lost son.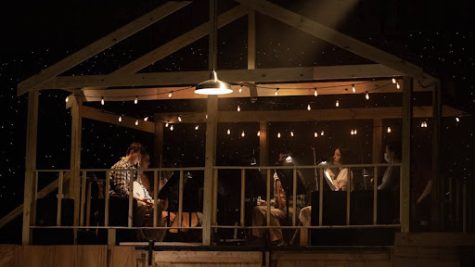 Being not nearly as lighthearted as "Peter and the Starcatcher", it is hard to believe that the actors on stage this semester were the same ones audience members saw earlier in the fall. Josh Lewis, for instance, takes on the powerful and formidable Mayor Dobbs who served as this musical's antagonist, much like his former character the Black Stache. However, these characters couldn't be any more antithetical, Black stache being a more comedic villain and Mayor Dobbs being a serious villain—one that replicates very real fears and subject matters. Student director Iman Hassan (10th grade) credits this to her and co-student director George Winfree's (11th grade) time spent helping actors with characterization.
As "Bright Star" is a more realistic show, this year's set included very few moving parts, veering away from last year's "Crazy for You" which utilized multiple dramatic scene changes to amplify the story. However the beautiful and dynamic permanent set displayed this year still shows the same high quality work we've come to expect from South Lakes. Because the sets did not play a major role in the storytelling this year, other technical elements were allowed their own time to shine.
An element largely commented on by the Cappies critics were the lights that rose and fell in almost every scene—indicating when certain parts of the stage were being used. This also included a curtain with fairy lights strung across it to create the illusion of stars in the night sky, telling us the time of day for each scene. Another creative technical aspect was the sound crew's use of empty pistachio shells to mimic an old train in motion, and the location specific ambient sounds (such as cicadas in the more rural regions of the show).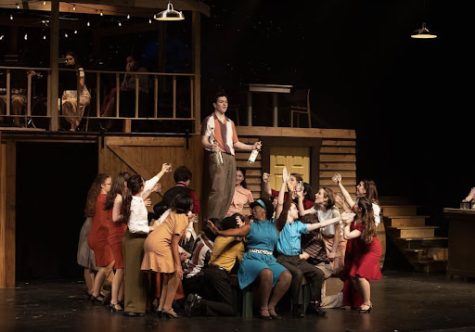 The overall performance of every student involved in "Bright Star" could only be described as masterful, having the audience laughing one minute and crying the next. Numbers like "Please Don't Take Him" and "Heartbreaker" were handled with maturity and sensitivity, charged with intense emotion as if these tragedies were actually happening in front of us. Yet, in the midst of all the heavy scenes, students also gave phenomenal performances in songs like "Another Round" and "Entr'acte", showcasing their dancing capabilities and packing in dozens of fun stunts and tricks.
Aside from the musical's principal quartet—Alice, Jimmy, Billy, and Margo (Billy's romantic interest), characters like Lucy (Elana Kirwan) and the bookstore duo (Danielle Kessler and Brianna Martin) stole the hearts of viewers with their fun personalities and comedic relief. Every character had a story to tell. Needless to say, the South Lakes community is excited for Director Michael Viola's future as their theatre teacher, and the places his already well respected work will take the department as a whole.