SLHS band, orchestra sweep competition at Virginia Beach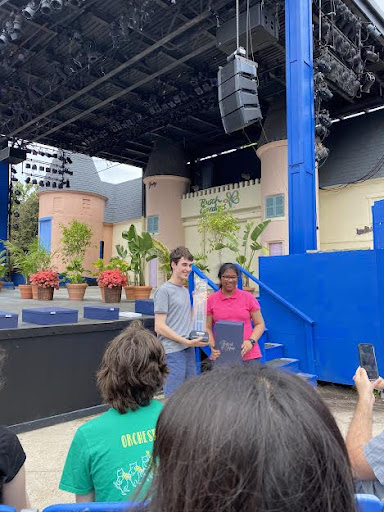 The South Lakes High School's performing arts program follows our Reston community's principles of balancing work and play. After a school year of difficult rehearsing and adrenaline-powered performing, the music department takes a spring trip as a reward for the students' hard work. This year, the band and orchestra competed and won their travel competition at Virginia Beach and spent the next day at Busch Gardens.
The trip is vital for enhancing the music department's spirit.
"It's so students get to know each other outside of the context of performing and being told what to do in class," says Mr. Baldwin, the orchestra director. "Music is supposed to be an enjoyable activity."
Originally, Mr. Baldwin and Mr. Fore, the band director, planned for students to go to Universal in Orlando, Florida. Unfortunately, because of a Fairfax County Public Schools county level decision, it was not possible this year. However, the two directors were not willing to give up, and created a plan to go to a Virginia Beach competition in late April.
"We wanted to provide students—especially our seniors, who had never had a spring trip—an opportunity to [have one]," Mr. Baldwin explains.
While it was off to a rocky start, the end result was extremely enjoyable for all students.
"I was kind of disappointed that we weren't going to Universal," says Lauren Roehr, violinist in Chamber Orchestra after the trip, "so I was a little bit bummed, but I did really want to go to Virginia Beach because it is my junior year, and I've always wanted to go on an orchestra trip."
Maeve Hartley, a violist in the Symphonic Orchestra, echoed Roehr's optimistic philosophy. "It was nice because I haven't had a spring trip since middle school," says Hartley. "We [got] to go compete now which we don't really do as an orchestra."
The most difficult part of the trip was combining students from different music classes to learn their competition music extremely quickly. The first time the groups played together "was that morning before we got on the bus," says Hartley.
"As difficult as it was, it was nice to have students from different ensembles performing together to get to know each other," says Mr. Baldwin.
With all of their hard work, the competition was a massive success, winning every award they were eligible to win. Both band and orchestra received superior ratings (an A on the grading scale). The band also won the William D. Revelli Concert Band Award.
The SLHS band program competes often, and they found this particular competition to be laid back and fun with a unique twist.
"An interesting [aspect of] this competition was that the judge came down and started talking to us and interacting with us," says Cy People, an alto-saxophone player in Wind Ensemble.
On the other hand, the Virginia Beach competition was a new opportunity for orchestra students. "It's the first time I've done a competition in about ten years, and we won," says Mr. Baldwin, "Now maybe we won't do another competition for another ten years."
The next day, students got to explore Busch Gardens with their friends to celebrate.
"We made sure to try and get in all the rollercoasters we could in the morning," says Roehr. "5 roller coasters in three hours, so that's pretty good."
Of course, after all that excitement from competitions and theme parks, sometimes the best part is just relaxing with your friends.
"After a long day in the car, and getting ready, and changing into concert uniforms on the buses, it was nice to just be at the hotel with your friends in the quiet," says Calynn Nelson, a flute player in Wind Ensemble. "And waking up on the beach—that was really nice."
After a successful trip, Mr. Baldwin and Mr. Fore are cementing the Orlando plans for next year. Both groups will be combined for a movie music workshop where they will get the experience of being professional musicians in a film score recording session.