NBA Season Recap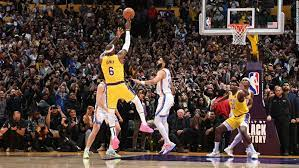 The 2022-2023 NBA season is in the books as another historic regular season has come to a close.
Starting off with Lakers legend, Lebron James, who furthered himself into the history books as he became the all-time leading scorer in NBA history. A major turn of events in the season was when the Brooklyn Nets "Super Team" was blown up as they shipped off stars Kevin Durant and Kyrie Irving to start their rebuild. Superstars, Joel Embiid, Nikola Jokic, and Giannis Antentokumpo competed in one of the best MVP races of all time, with each player putting up incredible seasons.
Lebron James, future first ballot hall of famer, passed Bucks and Lakers legend Kareem Abdul-Jabbar for the most points scored all time. James scored his 38,388th point on February 7, 2023 as the Lakers hosted the Oklahoma City Thunder. James, who many consider to be the greatest basketball player of all time, is in his 20th NBA season and looks to win his fourth championship.
The Brooklyn Nets added superstars Kevin Durant and Kyrie Irving in the summer of 2019 and traded for James Harden in 2021. The Nets imagined becoming a dynasty with three future hall-of-famers, but with injuries and off the court issues, the trio was forced to break up. Harden was traded last season as Durant and Irving tried to work things out as a duo. However, before the February 9th trade deadline, the Nets traded Durant to the Phoenix Suns and Kyrie Irving to the Dallas Mavericks.
Philadelphia 76ers superstar big man Joel Embiid, led the league in points per game with 33.1 and was top ten in rebounds with 10.2 per game. Embiid led the 76ers to the three seed in the east as Philadelphia plays the Nets in the first round of the NBA Playoffs. Two-time MVP Giannis Antetokumpo of the Milwakuee Bucks, earned the first seed in the eastern conference. Antetokumpo was top five in both points and rebounds per game with 31.1 points and 11.8 rebounds. Reigning back-to-back MVP Nikola Jokic of the Denver Nuggets, averaged 24.5 points, 11.8 rebounds, and 9.8 assists per game. All three players have tremendous cases to win the NBA's most prestigious award.
The NBA playoffs are starting and there are plenty of teams ready to run the table. The Sacramento Kings made and won their first playoff game since 2004 as they look to knock off defending champions, the Golden State Warriors. The Milwauee Bucks, Boston Celtics, Philadelphia 76ers, and Denver Nuggets are the betting favorites, but this year's playoffs will come down to the wire.