Leadership elects new executives for 2023-2024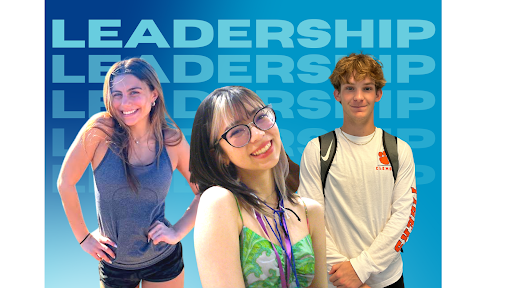 The Leadership student body at South Lakes High School has elected Audrey Jay, Brianna Le, Cameron Theis, Clara Landeryou, Keira Duggan, and Sean Redican as the Leadership executives for the 2023-2024 school year. This passionate batch of juniors will carry on the flame of graduating execs and guide the Leadership class in future activities.
Leadership is a course offered at South Lakes for students in grades 10-12 who show exemplary character and academic ambition. Led by teachers Jill Pellerin and Catherine McDermott, this program offers a unique learning opportunity that emphasizes community, collaboration, and task management. From planning the Homecoming dance to running the morning announcements, this spirited student body is a reckoning force in South Lake's school environment. As future exec Brianna Le puts it, "Without us, the school would be a lot more boring, not only for students, but for teachers and staff as well…the climate here depends a lot on what Leadership does."
Executives play a major role in setting the tone for the school year, acting as the top of the Leadership pyramid. This year's election was unique when it came to participation; 13 juniors ran for the position, almost double the candidates from previous years. To stand out from their peers in a large candidate pool, the students tried to shine through by emphasizing their past achievements and unique plans for Leadership's future.
Some of these ideas included increasing appreciation for staff, strengthening Leadership's digital presence, and creating more group bonding events for the student body. Le was especially passionate about amping up Leadership's social media influence and finally organizing the Leadership Google Drive, a complicated and daunting task that's gone unsolved for an extensive amount of time. Kiera Duggan, who was also elected to the position, is aiming to work with the class council to plan grade-specific bonding events that will especially benefit freshmen.
On the topic of school events, Cameron Theis pointed out current flaws in Leadership's relationship with administration. "I think a lot of times the administration judges us on what we've done in the past and not so much the new ideas that we've had," he explained, pointing out that more face-to-face meetings could make event planning smoother for both staff and students.
Even though this group of students will face many challenges ahead, it's clear to see that the new faces of Leadership are brimming with plans for the future. Whether it's tackling student morale or streamlining current Leadership systems, the passion from these promising new executives is sure to bring many positive changes in the next school year.