Latest Twilight movie creates mixed reviews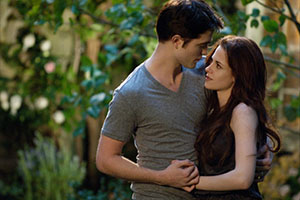 As the Twilight Saga is wound down to the final installment, "Twilight Saga: Breaking Dawn Part 2", students have something to say about it.
Some students have already seen it and gave it positive reviews. Some are just anticipating how the epic series will come to an end. The thrilling love triangle between human and supernatural beings, a vampire and werewolf, has kept audiences on the edge of their seats.
That is, unless you've read the original best-sellers by Stephenie Meyer.
Being one of the biggest franchises, it was most likely bittersweet to see the end of Twilight. On one hand, viewers want to see what becomes of each of the storylines. On the other hand, the story will be over and they won't get to anticipate the next movie.
Many people were captivated by the final movie in the saga and can be seen debating and talking about it with fellow fans in the cafeteria and in the halls.
"I really liked Breaking Dawn; I've always been a Twilight fan," freshman Jay Park said. "I didn't really like the first part but the second part was really good. It just surprised me and had interesting twists to it."
Although, not everyone was a big fan, most people had good things to say about Breaking Dawn.
"I was not a big fan of the movie," freshman Jennifer Reid said. "It was different than the book."
 "The books are poorly written and the movies are poorly made." freshman Constantine Kit said. "I haven't seen this movie, but from what I've heard it was pretty good, which is surprising."
Many people had read the book and were disappointed by the differences between it and the movie. Some people were pleasantly surprised by how well the movie matched up with the book.
"It was amazing," freshman Huda Sarma said. "They didn't make that many changes and I think this is the most closely related movie to the books."
After seeing this movie myself, and following the series, I give this movie 2.5 stars out of 4. I have never been a huge fan of Twilight, but I think this is probably the worst movie of the five. The movie came off as a little ridiculous to me in lieu of the fight scenes and how each vampire had a supernatural power. I have also never been really impressed by the acting or the actual plot of the series.
If you haven't seen Breaking Dawn in theaters, I recommend waiting until it comes out on DVD.