Artificial turf possible for 2012-13 school year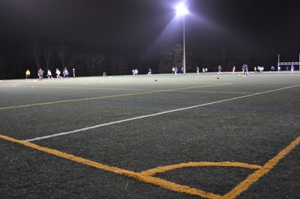 Hang on for a minute...we're trying to find some more stories you might like.
In the past, weather has created complications for South Lakes athletics.
Torrential rain and inclement weather has led to the cancellations of multiple practices and games, including this year's highly anticipated varsity football home game versus Herndon.
Hopefully, this will not be a problem for athletes in the near future.
South Lakes completed the application process for a grant in order to replace the grass football field with artificial turf.
Grants are given only to two schools, out of the approximate five that have applied.
"We have a strong application," said Principal Bruce Butler.
A strong application includes letter of commitment from entities, ensuring the school can pay for two new artificial turf fields, the football field and the field behind the tennis courts.
If selected, this project will cost around $650,000. Entities in the community will help with the funding, such as Neighborhood and Community Services.
There are many advantages of an artificial turf field. Athletes can still play during or after rain without adverse field conditions.
"Use of the field will go up 62% with the new fields," said Butler. "There are fewer rain outs and mud outs."
However, these new fields may come with a high price, other than the large amount of money it costs.
According to a March 2010 Washington Post article by Mark Maske, studies have found that ACL injuries, concussions, and ankle sprains occur at a higher rate on artificial turf fields than on grass fields.
Butler is confident that the fields are safe to use.
"These fields are first class and are even and consistent," said Butler.
If South Lakes receives the grant, renovation will begin immediately.
"Hopefully, if our application is accepted, it'll be done over the summer and we'll have it ready for next year."
Students are excited for the new fields.
"I'm excited that we're getting turf fields because games won't get rained out," said sophomore Tasha Adams, who plays varsity girls lacrosse.
Although the artificial turf will serve athletic teams, marching band will also enjoy the benefit.
"The field is uneven and it's really hard to just walk without stepping on uneven ground," said sophomore Kerry McEwen. "All our competitions are on turf, and it's a lot easier."