Cheer team advances to Regionals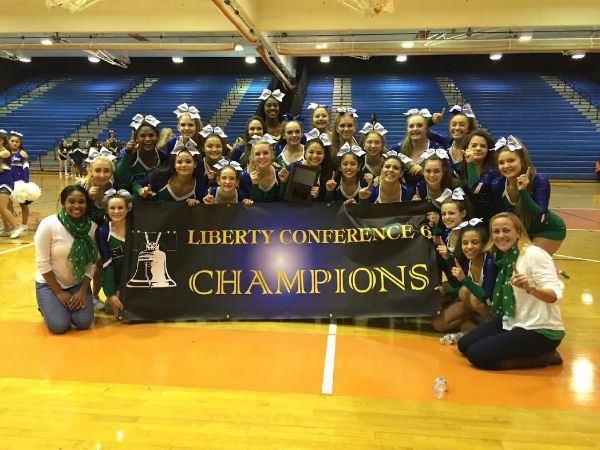 Advertisement
Hang on for a minute...we're trying to find some more stories you might like.
The varsity cheerleaders won the title of Liberty Conference Champions for the first time in the history of the program. The team won first place at Hayfield High School, which qualified them for regional semi-finals. Following that, conference semifinals took place on Oct. 24 at Patriot High School where the squad made it into the next round in fourth place.
Regionals were held at Battlefield High School in Haymarket, Virginia on Oct. 31 where the Seahawks placed eighth. They competed against 16 teams fighting for the state title. The last time the cheer squad advanced that far was in 2012.
The team understands the significance of cooperating with each other.
"They all understand how important it is to work together, respect each other, and encourage each other," said varsity coach Becky Slaight. "It is the bond that the team has that has made this such a successful year. You can have all the talent in the world, but if the team can't work together, it just won't work."
Senior Dania Rivas has been on varsity since the first time trying out her sophomore year and has since grown in her technical skills and leadership. She reflects on her past years as part of the cheerleading team.
"My goal the first day of cheer three years ago was to get a year on the empty banner in the gym," Rivas said. "I'm super happy that in my senior year I finally accomplished my goal."
Senior Lindsey Daniels describes the team.
"I believe this team has so much potential," Daniels said. "I'm extremely proud of my teammates for pulling together and working like one team instead of 24 individuals. Winning all of the competitions we have so far has really boosted the team's confidence to push harder to make it to states. Our goal this year was to make it to states and we were so very close."
The closely knit team has come far since the beginning of the season. Regardless of the routine, the choreography or how many titles the team has on the banner; it credits its success to the hard work and close bonds that the girls have made throughout the season.

About the Writer
Madison Evans, editor in chief
Madison Evans is a senior seahawk, this is her third year in Newspaper and her first year being co-editor of the Sentinel. She participates on varsity...