Steven Otwell: Superstar Wrestler
Wrestling is a sport that goes, for the most part, unnoticed by the majority of the student body. However, greatness should be noticed. Steven Otwell, senior varsity wrestler, has been shattering record after record for the Seahawks Wrestling team. The Wrestlers won the District Championship for the first time in over 10 years. Steven has been a key component in the operation: leading the team with experience and expertise. Steven started wrestling when he was seven and was something he was naturally good at, so he kept working at it. He says that his parents have done a great job in shaping him saying, "Whether I win or lose, no matter the score, my parents are always making sure I still enjoy wrestling."
Otwell thinks that while wrestling is an individual sport, the team is what makes it worth it He explained, "When you're in the ring, you're all alone. When you're in the film room, you're with your brothers. The comradery is what sets the sport apart for me."
The comradery makes the achievements even sweater to him. "Winning the Dual-Meet was insane to me. I just remember going crazy. I was so happy because of all the hard work we put in and seeing it pay off," Otwell remembers.
The team advanced to the postseason for the first time in years, breaking down a narrative that was as old as time concerning South Lakes Wrestling. Personally, he says that during his sophomore year, he was so proud of winning Districts himself.
"Ever since I was younger and practicing at South Lakes, I would see the banners and I always wanted to put my name up there. To me, that was so special and something that makes me so proud," Otwell reminisces.
Wrestling has a grueling other side that goes beyond the ring. Wrestlers have to manage their weight, losing or gaining weight, before meets to make weight classes.
"I think that wrestling teaches you how to be disciplined with your diet. I think that is the toughest thing in life: managing your diet. If you can manage your diet, you can do anything in life. If you can manage what you eat, there is nothing you can't do in school or anywhere," Otwell explains.
As far as recognition, he thinks wrestlers deserve more spotlighting and appreciation, saying, "I don't really blame anyone or anything, but it doesn't get much recognition on ESPN or anything like that. I think a lot of people just don't know a lot about it and it doesn't bring in that much money, so there would be no reason to air it." This brings up another argument of whether or not networks should broadcast all sports or just ones that will make them money.
Steven has his own way to prepare for a match, "I don't really have a warm-up routine or anything, but I make sure my body is loose. I'm always listening to music before a match to get my head in the right frame of mind. It's kind of ironic, though, because I'm listening to calm songs because if I listen to rap or something like that, I'll get too hyped up and my form will get sloppy."
Otwell thinks that he brings experience to the team too, giving advice to people who might have just started wrestling. Wrestling gives lessons constantly. Otwell shared, "It has taught me hard work and discipline and focus. It helps with pride, and how you carry yourself as a person with it being an individual sport." He finds inspiration from his coaches and his parents. He raves about his coaches and how they have made him a better person as well as a better wrestler.
While wrestling as a sport doesn't get much attention among the student body, the individuals who are working tirelessly to put up banners and set records should be getting more attention. Steven Otwell will be remembered as one of the best wrestlers in South Lakes history, which he has fully deserved. That will never change no matter where wrestling takes him in the future.
About the Contributor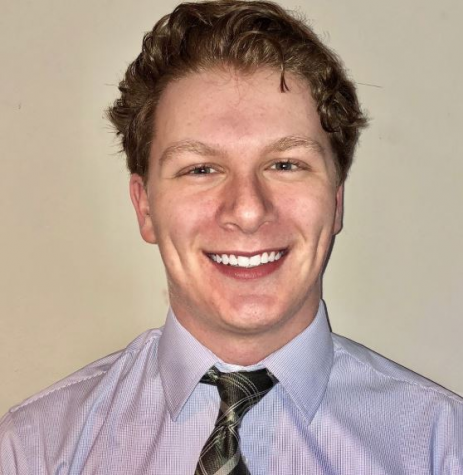 Marc Goldstein, Editor in Chief
Marc is a senior at South Lakes and is the Editor in Chief of The Sentinel. This is his 4th year on staff, and third as an editor. Outside of writing for...