Israel Adesanya vs Alex Pereira: UFC 287 main event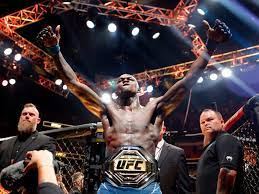 UFC 287 took place on Saturday April 8, 2023 with Israel Adesanya defeating Alex Pereira to regain the middleweight championship. Pereira held a professional record of 7-1, and Israel Adesanya held a professional record of 23-2. Both fighters are world renowned kickboxers, with Pereira beating Adesanya three times in professional kickboxing, and once in the UFC. Adesanya was the previous middleweight title holder before Periera defeated him in their previous matchup by knockout with three minutes left in the first round.
Their rematch was both of their first fights in over a year, and was highly anticipated by UFC fans around the world. Israel Adesanya is regarded as the best middleweight UFC fighter of all time, and fans were shocked when he lost to up and coming Pereira. Adesanya and Pereira's first matchup was close, but Pereira's leg kicks and knees weakened Adesanya enough to finish him with a knockout.
During their layoffs, both fighters squared off in two kickboxing matchups in Pereiras hometown in Brazil, where Adesanya was knocked out twice and taunted by Pereira and the Brazilian fans. These two losses fueled the rivalry between the two mixed martial artists, and once the rematch was scheduled, Adesanya was determined to get his belt back.
UFC analysts were choosing Adesanya to lose but plenty of fans wanted Adesanya to regain the championship belt. Adesanya trained to block Pereira's vicious leg kicks which cost him their first fight, and Pereira was refining his techniques to retain his belt and defend it for the first time.
Both fighters weighed in at 185 and similar reaches at around 80 inches. In the first round, Pereira targeted Adesanya's legs, successfully landing 16 of 21 crucial strikes to Adesanya's lead leg, as well as half of his attempted body shots. Adesanya underperformed in round one only landing 15 of 38 strikes, and targeting Pereiras head significantly more than his lower half. Pereira won the first round comfortably, leavingAdesanya on the ropes. Pereira landed 69% of his strikes, entering round two with minimal damage. Pereira kept the same gameplan that led him to success in their last UFC matchup, attacking Adesanya's legs to limit his stellar kicking ability, and to force him to switch stances to protect his lead leg.
Pereira continued to dominate for most of round two, landing 10 of 15 strikes to Adesanya's leg and 12 of 15 strikes to the body. Pereira was more aggressive in the second round after weakening Adesanya, aiming to finish the fight with head punches and kicks. After closing the distance and putting Adesanya on the cage looking for a finish, Pereira was raining strikes down on Adesanya and he was going for the finish. When the fight was looking over for Adesanya, Pereira let his guard down for a second and Israel Adesanya capitalized, throwing a left jab right overhand combination knocking Pereira down. After a ground and pound hammer fist the referee stopped the fight, and it was all over. Israel Adesanya regained his belt, and became the new UFC middleweight champion of the world.