SLHS swim team flies at States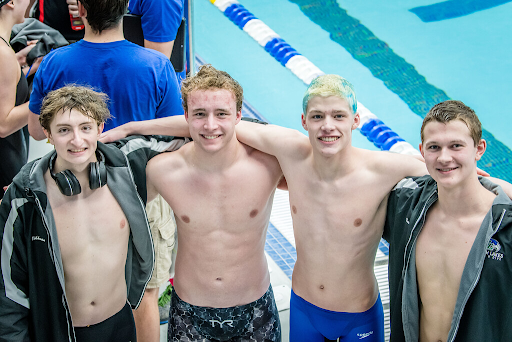 The South Lakes swim team made a splash at States, giving their best performance in recent years. At the Virginia High School League State Meet, the girls team finished in 9th place, and the boys team finished in 18th. As well as placing high in States, both teams had record breaking performances in the boys 200m free relay, boys 50m free, and the girls 200m free relay. After all of the hard work and dedication, this was a great way to finish the year.
The boys gave a stellar performance in the pool. Senior Josh Bordordovsky was able to break the school 50 meter freestyle record in his last ever high school race, with a time of 21.36 seconds. He was also part of the record breaking 200 free relay that also featured Jackson Harriot, James Harriot, and Nathan Vikhman, with an amazing time of 1:26.17, landing 6th in the state.
"We were not expecting to break the record," said Josh Bordovsky. "But after warming up, we felt really good and thought we might be able to." Being this fast was not easy though: "It took a lot of practice and dedication," Bordovsky stated. "With all of the hard work and effort put in by these athletes, it is great to see it all paying off."
The girls team also had a stellar performance, finishing ninth in the state breaking the 200 free relay record. Ashlyn Diederich, Sophie Kennedy, Veronika Owen and Clara Landeryou went 1:38.06, breaking the record set in 2002 by a half a second. This relay time was good enough for fifth in the state. There were also some amazing solo swims made: Lauren Wagner swam the 200 IM and 100 breast, finishing 11th and 9th respectively. Clara Landeryou led the charge in the 100 fly finishing 8th, followed closely by Veronika Owen (10th) and Heidi Gilman (12th).
With such a great performance at states, the SLHS swim team ended the season on a high note. This was such an amazing season for both of the teams and this will help build a path for an even stronger performance next season.