The South Lakes boys tennis team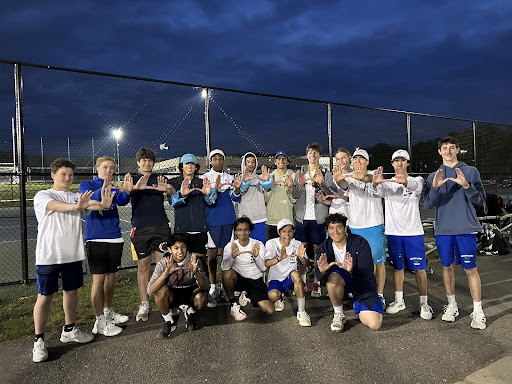 Despite being one of the more overlooked sports at South Lakes High School, the boys tennis team still have high hopes for their teammates and the team itself. In one of their previous matches against Oakton, the team managed to score a total of 5 points against Oakton's score of 4. This was the first time a South Lakes boys tennis team had beaten an Oakton tennis team in 7 years! After all these years the hard working dedication led by the tennis team led them towards victory and earning that win.
The tennis team's newfound strengths led the team to their most recent win. Richie Ospina,a member of the South Lakes boys tennis team, remarks that the "strengths that make a great athlete is having patience and knowing to stay calm when you're in an intense situation." Marc-Anthony Sarka, another member of the tennis team, comments that he's "confident and energetic" and someone "who always looks forward and strives to advance." These qualities in the boys of the team is what makes them stand out compared to other school's teams.
However, when placed on a team it's very important that the members are able to truly mesh well together. Ospina says that "We do a good job in encouraging each other" and that "even when we lose, we're still there for each other." Marc-Anthony also states that they're "always joking and interacting with each other which makes it quite fun to be on the team." The brotherly relationship between the boys creates a tight knit team
Unfortunately, the tennis team still struggles to have their grand moments in the spotlight. Ospina noted that the team is "underrated for sure." Marc-Anthony agrees: "sometimes it does feel under appreciated." The boys tennis team could win a number of games and earn a number of trophies, but that still wouldn't change the fact that they're undervalued and aren't in the spotlight as much as other sports such as football or basketball.
The South Lakes boys tennis team deserves more recognition and attention from the school considering how hardworking these kids are. The team still has many more games ahead of them and hopefully their achievements receive more recognition in the future. Good luck to the tennis team on their journey to victory!