Cooking up creative cuisine in culinary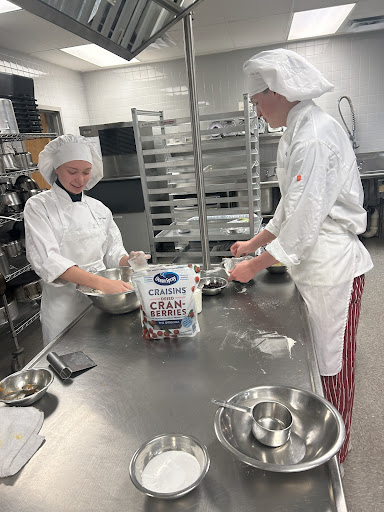 Something smells good… and it's not the cafeteria. Up in room 487, culinary students practice honing their craft and serving the staff at South Lakes. Culinary is an International Baccalaureate Career and Technical Education (CTE) program, taking up a two period block. Students are taught by Chef Stowers, and trained in the art of cooking. They get to showcase their skills at the end of the week, whipping up a meal for others to enjoy.
Students in culinary practice working in a real restaurant environment. The average week starts when students are assigned to a recipe, either working alone or in pairs. Depending on the block scheduling of the week, they get either one or two days to prepare before serving the food. Typically, students prepare lunches that faculty can sign up to receive, though they also sell items like brownies and pie crusts, and occasionally cater to other programs, like the theater department. The course is rigorous, and very similar to working a real job, giving students the skill set for a career in the culinary industry.
"[In the class] we learn knife cuts. We learn different baking techniques.We learn boiling, sauteing, poaching," senior Lourdes Santiago comments. "Anything you can cook we can make in this class."
For those interested in cuisine beyond what they usually eat, the class doesn't just focus on the familiar favorites.
"We travel through America, we also go around the world. As much as we can where I can keep it authentic," Stowers continues. "I just try to expose them to as many different things as I can… a lot of students come here having only eaten their family's cuisine their whole life, and that's it."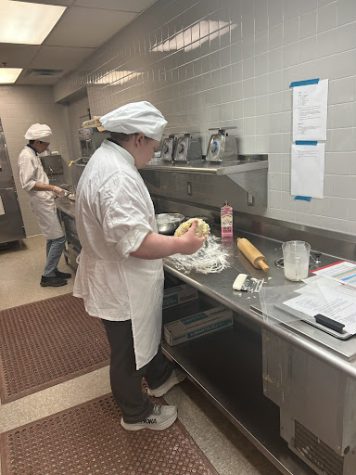 To get invited to a culinary lunch is a treat, and unfortunately, is not an option for students. If lunch is going to be served, an email will be sent out to the staff, parents, and members of the community with a Google interest form. Staff can choose to either take it to go or dine in. If eating in, they sign up for a lunch slot, then head over to the culinary classroom at their assigned time. There they get the experience of eating at a real restaurant. The tables are draped in tablecloths with a small bouquet in the center, and are bussed by the students themselves, dressed neatly in crisp white uniforms.
"[We] try to make it as much like a restaurant as we can within the confines of a school building," Chef Stowers says.
While things often look like they are running smoothly in the dining room, there is a lot of action happening in the kitchen. Much of the work starts days prior, when students begin to prepare the food they will be using. This involves slicing, dicing, and portioning everything properly so it is all set up when it's time to cook. When it's time to put it all together, students get assigned roles in the kitchen.
Those familiar with classic Pixar film Ratatouille may already know where this is headed. Second in command under Chef Stowers is the sous chef. Other roles include the garde manger, who primarily works with cold food like salads and things served fresh, as well as those assigned to sanitation. The majority of the students serve as line cooks, who do most of the work in the cooking process. It's important that students show up and work together to make the meal, as Stowers takes a hands off approach, leaving the students to run the show. When asked if the chef is in charge of making sure the place doesn't burn down, Santiago laughs: "We're basically in charge of that too."
Stowers usually determines the menu for the week, but advanced culinary students also get to complete a cumulative project. They make their own menu, create recipes from scratch, portion out the cost of the project, determine the amounts of food necessary to buy, practice scaling up a recipe and oversee the preparation and serving of the food.
Despite the many variables that go into making each of these meals a success, knowledge of culinary skills and kitchen etiquette can provide many opportunities later on. For example, in the first year of culinary, students have the chance to take the ServSafe test.
"It looks incredibly good on a resume… Every job that works with food has to have someone on shift who is ServSafe certified," Santiago remarks.
To those interested in taking the culinary course, a fair warning: it's not a piece of cake. Students complete a large amount of work under pressure, and they have to be prepared to commit themselves to the class. However, the course can be incredibly rewarding to those who are interested in a career in the culinary field. For example, Santiago is currently bound for the Culinary Institute of America. While the class may not be for everybody, it can provide valuable life skills that can help employees in any industry and gives students the chance to independently explore their abilities.
"I show them what to do… but if we fail, it's because they failed," Stowers remarks. "If we succeed, it's because [the students] have done the work to succeed."