No longer a masquerade party: Prom 2023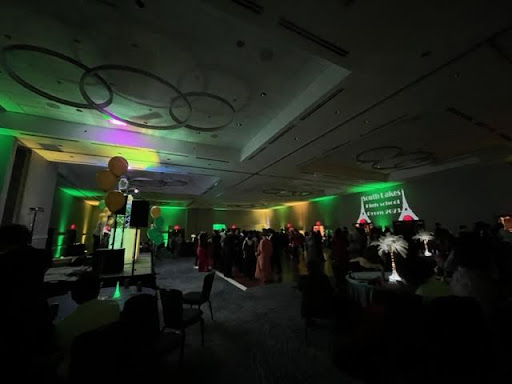 While it might not be life-or-death like romcoms make it out to be, the South Lakes High School prom 2023 will go down in history! As the school year comes to a close, hard working upperclassmen enjoyed a night of dancing and partying with their friends.
"I was just excited [to] spend time with friends and just have a bunch of fun," says Colin Surabian.
The biggest makeover for this year's prom was its location. Hosted off-campus for the first time since 2019, prom took place at the Dulles Hyatt hotel. This spacious and accommodating venue was transformed to match this year's theme: Moulin Rouge. Colorful green and gold lights shimmered across the room. Students played keep away with rogue green and gold balloons. Tables were draped in dark cloth and each had their own miniature Eiffel Tower, each detail bringing Paris into the heart of South Lakes.
Living in the digital age, there were plenty of opportunities to snap a photo. Not only was there a photo backdrop where students could take pictures with balloons that spelled out "prom," there was also a digital photo booth where students could receive a roll of pictures as a memento.
"I think my favorite part about prom was the photo booth outside," says Rishi Chandra. "I think it was a really cool feature. I liked the props. I liked the set, and the people who ran it were very sweet."
It was definitely a night to capture, as the fashion was fabulous. Dresses ranged in shade and style, with sequins and satin reflecting in the lights. Color coordinated blazers and ties ensured that pairs looked perfect for pictures.
While it took a while for students to arrive at the dance, as many dedicated the early evening to dinner and photos, the hotel eventually became a hub of energy. Though there were tables next to the dance floor, many people chose to send their time either on the floor or out in the hallway, chatting with their friends.
"It was nice to see everyone dressed up and enjoying themselves! It was cool to see people outside of the school environment—I had fun playing games and talking with people I knew from class," comments Fiona Santiago.
Most attendees seemed particularly enthusiastic about the venue, which had caused some worries in previous years, as due to Covid-19, past proms had been held in a tent and the South Lakes gym.
"I liked that it was in a hotel, it made the whole experience more fun and special,"says Sofia Pakhomkina.
The hotel also helped meet expectations students have had of the event from shows and movies from their childhoods, making the event feel more upscale.
"[The night] was a lot of fun and I loved the decorations, snacks, and having the dance in a hotel; it felt just like a TV show prom," remarks Sophia Paradowski.
The main critique of prom seemed to be that the initial energy of the dance floor was a bit hesitant, though this could be chalked up to late arrivals and some unorthodox music choices at first.
Surabian hopes for better music. "I really didn't know much of the music…," he says, "but it was still fun, and I saw that a lot of people seemed to enjoy [it]."
However, a little while later the event was in full swing. Dancing came in all different types from timidly tapping a toe to full out pinwheeling arms and legs, but all the students moving around heated up the room. Ellie Lyon suggests next year's prom could include "more air conditioning because it was really hot in the room."
It took a lot of planning to make the night successful. The junior class council worked hard to create a prom to remember.
"I was really hoping that it would go to plan in the way we wanted it to," says Evelyn Wagner, Junior Class Council member, "and that it'd be a great event for everybody."
Thankfully, Class Council's hard work and planning came through. "It was so fulfilling to see… and I myself was having fun throughout prom," Wagner says. She was happy "how much of an impact [prom] was having on people."
The event was ultimately a success for planners and participants alike. The venue, activities, and decorations made this year's prom a major improvement from years past, and the student body made the event their own. The memories and magic of the night will be remembered by the upperclassmen for years to come.