Ms. Amy Saylor: Outstanding Teacher Nominee
Amy Saylor is an art teacher at South Lakes and has been nominated for an Outstanding Teacher Award. Ms. Saylor has been a teacher for 25 years and both of her parents were teachers before her. She attended Mansfield University for her undergraduate and masters degree.
"I was so lucky to land this job a week before school started! I had just moved here from New York in January after completing my masters degree, and I was at a concert. I met an art teacher there, and she handed me a phone number to call. I called, and the rest is history!" Ms. Saylor said.
Ms. Saylor believes that watching students explore materials and seeing them evolve as artists as well as people is the best part of being a teacher.
"I truly love the students here. Even when they don't act the way they should, I just love them. They make me laugh everyday and they inspire me. It is rare that I have an issue getting up at 4:30 to get to school on time because I'm excited to see their faces," she stated.
The greatest challenge of teaching, according to Ms. Saylor, is trying to be as good as the other teachers in the Art Department. "Each year I think, it can't get better than this, and every year it does!"
About the Contributor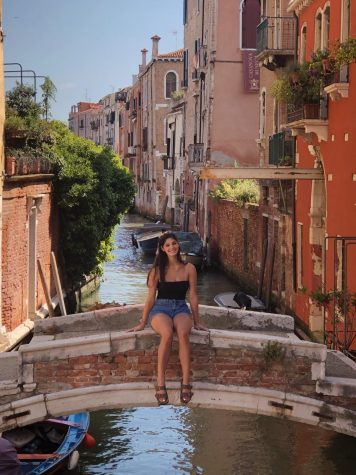 Maddy McFarlin, Entertainment Co Editor
Maddy is a senior in High School and is also a part of the South Lakes Dance Team! This is her fourth year in journalism and she is so excited to be writing...