QRU? Senior Allie Micka
Advertisement
Hang on for a minute...we're trying to find some more stories you might like.
Senior Allie Micka is a varsity athlete as well as a full IB diploma student. Here she shares some of her experiences of juggling IB classes, varsity sports, and college applications.
Would you say that there is a huge difference in being a senior this year than being a junior? If there is, is it better or worse?
I think the main difference between junior and senior year is the addition of college apps, extended essay, and TOK in the fall. The workload for the classes isn't different there's just extra stuff to do on top of all of it. I like senior year so far though because of the way IB works, this school year just feels like a connection to last school year.
Would you encourage students to stay involved with sports during senior year, knowing that it takes a ton of time?
I would definitely encourage seniors to play sports even though it's a lot of extra time. For me, it helps me focus and I know that I can't procrastinate because I need to get rest for a game and the sport helps me manage my time better.
What would be your advice to any students not yet seniors?
The main advice I would give to juniors is to start college apps and extended essay early so that way you don't have to worry about those on top of school work in the fall. Also for underclassmen I would advise them to do as well as they can to get good grades freshmen and sophomore years because it only gets harder so it's good to have some good grades on your transcript early on.
How is college preparation? And does it only take place junior year or does it carry over to senior year?
I started touring colleges at the end of my sophomore year and into my junior and senior year. I focused on SAT prep my junior year and I did some testing my senior year, and then I did college applications over the summer and I'm still working on them now.
Who were some of your favorite teachers at South Lakes during any grade?
I've had a lot of good teachers at south lakes. Some of my favorites were Ms. Hope for Spanish sophomore year because I was able to do a service project in Guatemala with her and other students this summer, Mr. Wagner for HOA because he told the best stories, and I've had really good math teachers at South Lakes too.
Would you recommend taking part in the IB diploma program? How much harder do you think IB classes really are? 
Even though I say I hate IB, I know it's gonna pay off next year in college because I know how to write research papers. Also, I would've taken all ib classes anyways so it was a no brainer to go for the full diploma because I completed my CAS hours pretty easily, I did my extended essay on a topic that I'm really interested in, and I think TOK is an interesting class. But I don't think IB is for everyone just because it is hard to fulfill the requirements and write the extended essay and take all IB level classes.

About the Writer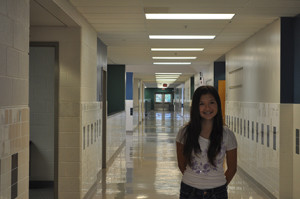 Allison Choe, online writer
Allison Choe is a freshman and this is her first year taking journalism. She enjoys playing lacrosse, field hockey, and running. Additionally she loves...