Trout to assume principal role at Terraset Elementary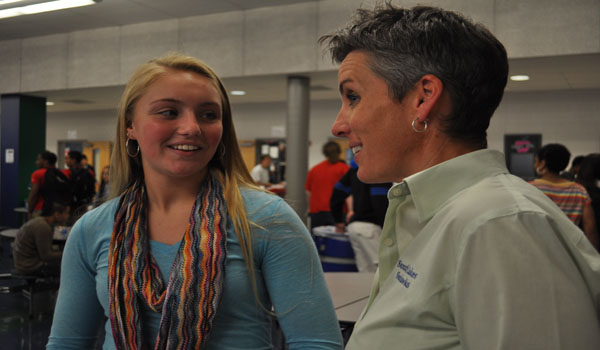 Hang on for a minute...we're trying to find some more stories you might like.
When a student comes to school with a Mohawk, some might nod in approval, others might stare in wonder, and some teachers may shake their heads in disbelief.
It wouldn't phase beloved Lindsay Trout.
Trout has been at South Lakes for nine years, not including the four spent here as a student. She will leave the Seahawk family and become principal of Terraset Elementary at the end of this year.
Fellow colleagues recall Trout's influence on South Lakes during her early years.
"I remember her as a student," said special education administrative assistant Kay Spinks.
"I used to be her basketball coach when she was a senior," said director of student activities Linda Jones.
When Trout returned to South Lakes, she became the freshman basketball coach.
In 2006, Trout began the Fight for a Seahawk fundraiser and promised to get a Mohawk if the students raised $20,000.
"Through her dedication and persistence, that goal was met, and she rocked her Mohawk as promised with more confidence and swag than I could ever dream of possessing," said senior class president Abby Reed. "She is an incredibly selfless person who makes one feel a rare combination of 100 percent inspired as well as 100 percent comfortable at the same time."
Trout started as a student and then returned in 2002. She has taught in several different positions, working with SGA and the special education program. For the last three years, Trout has served as an assistant principal. She began the mentoring program for freshmen and set up countless fundraisers with SGA.
In 2005, Trout coordinated the Hurricane Katrina Relief Fundraiser which raised over $10,000. In 2008, she organized a bone marrow drive which raised over $5,000 for a former student who had battled leukemia. In 2009, she raised $4,900 for the Muscular Dystrophy Association and $19,500 for the funeral service of a former South Lakes student.
Trout's impact on students is evident.
"If I ever needed anything I could always talk to her," said senior Chermara White. "It didn't matter what time of day, her door was always open."
"Mrs. Trout is a one of a kind human who has extraordinary people skills and consistently puts other people before anything else," said Reed. "I see her as a huge role model, as someone who can command so much respect and look at situations with a, as she would say, 'solutions-based-outlook.' She is extremely efficient, but what makes her so special is her ability to get things done while still being totally conscious of every persons' perspective.
"Her command of respect and strong principles make her someone that every student, upon introduction, immediately wants to be best friends with. I view her as someone who can solve any problem, with any group of people, because she has such rare-refined people skills that have to stem only from having such a huge empathetic heart."
Although sentimental about leaving, Trout has an optimistic view of the situation.
"I think of it, not that I'm leaving South Lakes, but that I'm getting those students earlier."
Trout began our valuable mentoring program seven years ago because she felt a disconnection between all the classes.
"The connected environment wasn't there, and for a student to achieve everything they're capable of, they need to feel safe and happy," said Trout.
Trout's colleagues have positive descriptions of her personality and believe her legacy will live on even in her departure from South Lakes.
"Ms. Trout is a trusted assistant principal, charismatic teacher, and inspirational community leader," said IB coordinator Marie Turner. "I look forward to celebrating her future successes as Terraset's principal."
"Ms. Trout is just a wonderful educator and she will have a wonderful impact on the South Lakes community," said Principal Bruce Butler.
"We're happy for her and her promotion," said Jones. "It will be a loss for us, but I know she's going to do great things."
"She's always been a go-getter," said Spinks, "and she will always be a Seahawk."