Virginia statewide primary Democratic voting guide: 11th District
Drastic changes have been made in Virginia politics in the past year, and more changes are likely to come. The Virginia statewide primary is on June 23, 2020. Find your polling place here if you're eligible to vote and haven't voted by mail.
Many Republicans are vying to take Democratic spots across the state, particularly Mark Warner's seat.
Most seats are uncontested within the Democratic party in District 11, but longtime incumbent Gerald E. (Gerry) Connolly is facing off with Progressive favorite Zainab Mohsini. There are two Democrats running for the first time since 2008. There is one Republican and one Libertarian running in District 11, both completely uncontested (meaning no primary will be held for their parties).
This is your voting guide for Virginia's 11th District (Fairfax County, the city of Fairfax and Eastern Prince William County).
Gerry Connolly
Gerry Connolly is currently serving his sixth term as a member of the U.S. House. Connolly served on the Fairfax County Board of Supervisors from 1995 to 2008. He graduated from Maryknoll College in 1971, and then went on to gain a Master of Public Administration from Harvard's Kennedy School of Government in 1979.
His record shows that he is an "average Democratic member of Congress," as he aligns with the Democratic Party on the majority of votes, and has strongly stood for Democratic and Progressive values. He has stood strongly against President Trump.
Connolly serves on the Committee on Foreign Affairs and the Committee on Oversight and Government Reform. He remains opposed to intervention in Syria, though he supported military action. He voted to impeach President Trump. Connolly has been a prolonged supporter of the LGBTQ+ community. Connolly is one of many Democrats in Congress signing on to the Justice in Policing Act of 2020, in terms of his position on police reforms. You can read more about his stances here.
Endorsements from groups such as Planned Parenthood, Women Political Action Committee and The Sierra Club, have been bestowed upon Connolly's campaign. Connolly accepts money from Political Action Committees (PACs). The top contributors to his campaign are Apex Covantage, Northrop Grumman, Fairfax County, Amazon.com and Granite Telecommunications. 40.73% of his funds come from PACs. Gerry Connolly currently has $3,156,016 on hand.
Connolly is expected to win, as he is favored by the local community. This is the first time is is facing a challenger since 2008.
He is ranked as follows on key issues:
Gun safety: 9/10
Environment: 10/10
Healthcare: 10/10
Reproductive rights: 10/10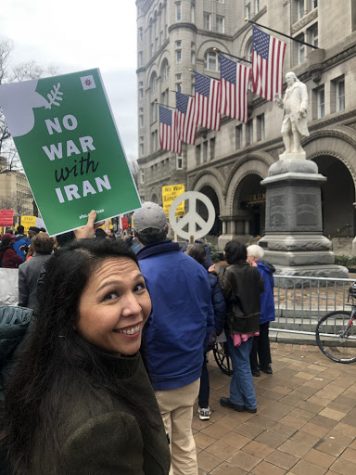 Zainab Mohsini
Zainab Moshini is a newcomer to the political scene, though she has worked as an organizer for many years. She is a first-generation Afghan-American. Moshini wrote about her background, "When the United Nations High Commission for Refugees placed my single mother, four siblings, and myself in Beaverton, [Oregon]…" She graduated from Virginia Tech in 2015.
The main issues that Moshini's campaign center around are medicare for all, the rights of immigrants and the environment. She is focused on combating the wealth and racial disparities that plague the 11th District. You can read more about her platform here. Moshini supports the Justice in Policing Act of 2020, but has added that many policing budgets nationwide must be completely overhauled or defunded.
Moshini has been endorsed by the highly Progressive environmental organization, the Virginia Sunrise Movement. She does not accept any PAC money. She currently has $5,325 on hand, after raising $17,613. 78.26% of her donations come from small donors, and the rest are from large individual donations, as well as a small portion of personal funds ($299).
While Moshini is not expected to secure the seat, she is seen as the part of one of the first waves of Progressive and young politicians running in the state.
About the Writer
Helen Ehrlich, Editor-In-Chief
Helen is News Editor, Editor-In-Chief, founder and manager of the broadcasting department. She is the head manager of the Sentinel's social media. She...