Flu vs. Covid-19 in 2021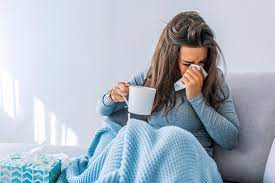 As time goes on, society continues to see the long lasting effects of the Covid-19 pandemic. During the 2020-21 seasons, people were doing everything they could to stay safe from the virus. This included washing their hands, remaining six feet apart, limiting interactions, wearing masks, etc. Many still continue to do these tasks, however, as time goes on it is not as intense as it was in the beginning.
Now that "60% of the American population is fully vaccinated", the hope is to help stop the spread of Covid. However, now that it is the time of year where illness increases, there could be issues people are faced with due to the precautions taken within the last year. Since being quarantined and taking all the steps to stay healthy from the Coronavirus, many may have less immunity to the flu. Due to the lower immune systems to the flu, "Getting the Influenza Vaccine this season is even more important," said Respiratory Disease Coordinator for the VDH, Lisa Sollot. A large amount of us were protected against germs for so long, resulting in our bodies not having as much tolerance to sickness.
The flu season is now here so it is important to differentiate the Covid-19 virus and the flu. The common symptoms for the flu are fever, headache, fatigue, aches and pains. According to the VDH, "common symptoms of Covid are fever, chills, cough, shortness of breath, loss of taste or smell, fatigue, headache and aches."
During this season, it is important to continue practicing safety against not only Covid-19, but the flu. Some ways to ensure safety and others, is to remain home if sick, report sickness to others, continue washing hands, wear a mask, etc. These small actions make a huge difference in protecting oneself and those in the vicinity.