Dr. Seuss experience opening in Tysons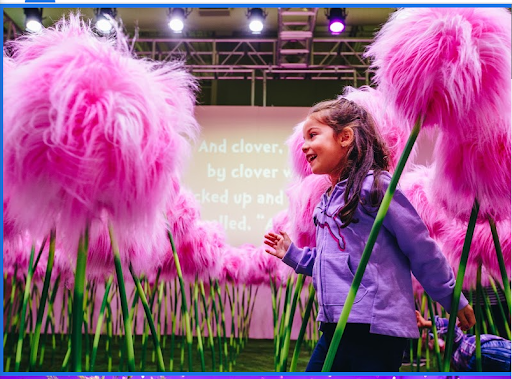 Red fish, blue fish, come to Tyson's to scratch your Dr. Seuss itch! "The Dr Seuss Experience" opened in Tysons Corner on April 7. Described as "an imaginative and interactive immersion into the wondrous world of Dr. Seuss," the attraction features "Seuss-themed rides, staff in costumes representing iconic characters, bespoke merchandise, and incredible photo opportunities." The experience is located on level two of the Tysons Corner building, under the AMC Theaters and Food Court, and next to Barnes and Noble.
At Tysons Corner, free parking is available for visitors, and Garages C and E have direct access to the experience via bridge. Visitors usually spend about an hour at the experience, where, according to the Dr. Seuss Experience Website, they can "Swing among Truffula Trees from The Lorax, make [their] way through the Stars Upon Thars Sneetches Mirror Maze, stroll through towering clovers listening for a Who from Horton Hears a Who!, or join the Circus McGurkus!" The experience is wheelchair and special needs accessible.
It is a "traveling exhibit show," and is open Wednesdays through Sundays. Opening hours can be found under the FAQ's section on the Dr. Seuss Experience Website. Admission for ages 12 and under start at $29, 13 and up $34, police, teachers, healthcare workers, currently serving military, and people 65 and older $27.20. People ages 16 or under need to be accompanied by an adult.
Pictures and videos are encouraged, and tickets can be purchased here.