Tokyo Mew Mew New ♡ Anime Premiere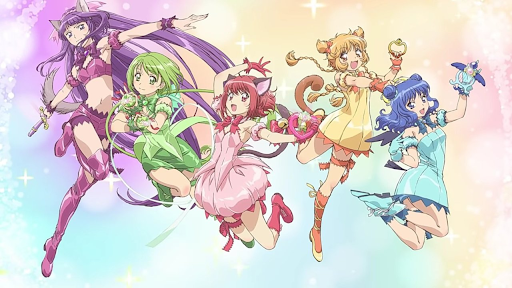 The classic magical girl series, Tokyo Mew Mew, will receive a reboot of the original 2002 anime. It has been in production for the past two years and was announced in February 2020, and its reboot has a website. Tokyo Mew Mew also has a manga selling on Kodansha and has a Twitter account marketing the release.
Screenwriter Reiko Yoshida collaborated with Mia Ikumi on the manga's creation. Unfortunately, recent news reported that Mia passed away due to a subarachnoid hemorrhage at the age of 42. She was a talented manga illustrator. Tokyo Mew Mew was serialized from September 2000 to February 2003 and falls into the shoujo manga category, which is aimed at young female readers and often features cute themes such as romance.
Ikumi, the creator of Tokyo Mew Mew, previously serialized a one-shot manga called Tokyo Black Cat with Hime Azumi as the heroine. For Tokyo Mew Mew, Kodansha hired Reiko Yoshida as the story supervisor. The first manga volume was published on February 6th, 2001, by TokyoPop, an English Publisher. On its cover, it featured Mew Strawberry.
Tokyo Mew Mew's story follows a magical girl group infused with the DNA of endangered species to fight against the threat of alien invasion and wildlife destruction. Meanwhile, Ichigo Momomiya desires her crush, Masaya Aoyama, to accept her for who she is. This magical girl group also has a headquarters known as Café Mew Mew. These girls work their shifts, serving customers striding the way, breezing in their roller skates.
The original Japanese version of Tokyo Mew Mew consisted of 52 episodes, but the English version only included 26. It aired from February 3rd to January 26th, 2003. The show was also known as Mew Mew Power, distributed by 4Kids Entertainment. It's worth noting that 4Kids has a reputation for making controversial cuts and edits to other anime titles. Unfortunately, Mew Mew Power was eventually canceled by 4Kids Entertainment because the necessary licenses could not be obtained. The English dub of the show aired from February 2005 to July 2006.
Tokyo Mew Mew New collaborated with a Japanese dress-up game called Alice Closet. The anime is set to be released in July 2022, according to Distractify. However, it is currently unknown whether it will be streamed on any platform; more is to come soon!