Junior Rashaan Jones sets school record with first seven-foot high jump in nation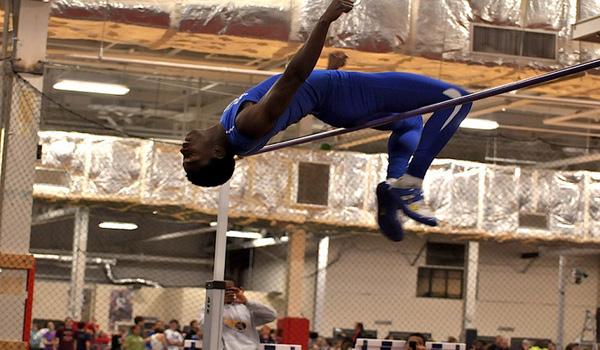 Hang on for a minute...we're trying to find some more stories you might like.
Over the Martin Luther King Jr. holiday weekend, varsity indoor track and field traveled to Lynchburg for the Flames High School Invitational.
South Lakes gained national attention.
Throughout the weekend, many indoor track members broke school records and qualified for district, regional, and state competitions.
One of records was set by junior Rashaan Jones in the high jump.
Jones came into the meet with a personal record of 6'8″. He left with the first 7′ jump in high school competition at the national level this year.
At the Flames Invitational, the opening height was five feet, but Jones did not join the competition until six feet. Eventually, Jones cleared his previous personal record of 6'8″. At that point in the meet Jones went to talk to head coach Scott Raczko about how he should adjust the height from here.
Instead of moving up inch by inch as Jones had been doing previously, Raczko advised that he move ahead to seven feet.
"I was really nervous about this change," said Jones. "I had never moved this much before, but coach believed in me."
Jones did not make it on his first jump. He then adjusted his mark a half shoe back and again attempted the jump. Jones cleared it.
However, Jones's success has not come easily to him.
"I've had to put in a lot of hard work to get good in high jump," said Jones. "It's been a long road."
He has been competing in the high jump event since freshman year.
"Rashaan has really shown great work ethic," said Raczko. "I truly believe that has been the reason for his success."
Jones joins six other Virginians who were able to achieve a 7″ jump in indoor track and field history. Currently, Jones ranks first in the nation.
Jones can only describe his momentous jump as "perfect."
"When you jump, you're supposed to jump so high that you feel like you're flying," said Jones. "I felt like I was soaring."